iPad Pro 12.9" Wall Mount and Wireless Charging Stand
Our FlexGrip MagPower Bundle is a versatile display and charging system for your iPad. A robust fan array keeps your device from overheating, and our magnetic charging-enabled MagPower Receiver will allow you to remove and replace it seamlessly throughout the day. It's the end-all workflow solution for heavy iPad use, and an ideal "home base" for your device whether you're a construction worker, a tactical responder, or a hospitality professional.
X-naut is proud to offer the only bundle of this kind, which includes 3 integrated products to manage, charge, and protect an iPad (5th and 6th Gen), iPad Air (1st and 2nd Gen), or 12.9" iPad Pro.
The FlexGrip Command Center features an array of temperature-sensing fans that offer 24 hours of normal cooling. The MagPower system lets you wall-mount your iPad Pro and includes a wireless charging stand to keep your battery topped off. The MagPower Grip is a flexible mechanism that can accommodate a range of devices, including the 12.9" iPad Pro.
The Only Product of Its Kind
Our MagPower Series includes a combination of accessories to keep your iPad powered all day. The MagPower Receiver is the powerhouse behind this product-set—a docking base that magnetically charges your iPad instantaneously. You can use it with virtually any mount on the market.
The receiver attaches to an Accessory Mounting Plate (AMP), which in turn attaches to the FlexGrip Cooling Case designed to protect your undocked device from impacts and drops.
The MagPower wall mount for your iPad Pro exerts a magnetic force of over 40 pounds, so you can be confident that your device will remain secure as it charges.
Get a one-year manufacturer's warranty with your X-naut purchase. Orders can be returned within 30 days from the date of receipt. Please refer to our exchanges and returns policy for more details.
Get More Out of Your iPad with X-naut
Overheating and wear and tear are common problems every heavy iPad user faces. Our products were built to deliver improved utility, user experience, and longevity for your device.
Our MagPower iPad Pro wall mount features a military-grade mounting plate that can withstand the shocks and impacts that inevitably occur over your device's lifetime, and our magnetic charging system ensures that your iPad never fails you when you need it most. The FlexGrip cooling system is dust- and moisture-resistant, ensuring performance in all environments.
Our products are shipped worldwide. Browse our FAQs to learn more about them and feel free to reach out to us if you have any questions!
LET'S BREAK IT DOWN
THE FLEXGRIP COMMAND CENTER
FlexGrip Command Center features a temperature-sensing fan array with a new Turbo Mode that automatically engages above 90 degrees F.
Built-in rechargeable lithium batteries provide over 24 hours of runtime in normal cooling, so your iPad's battery will not be drained while cooling. In fact, the FlexGrip Command Center can charge your iPad while cooling. We've also included a USB-C power outlet that enables pass-thru charging for peripherals.

The FlexGrip Command Center features a clamp-style mechanism which allows a one-size-fits-all approach for all FlexGrip Skin case sizes.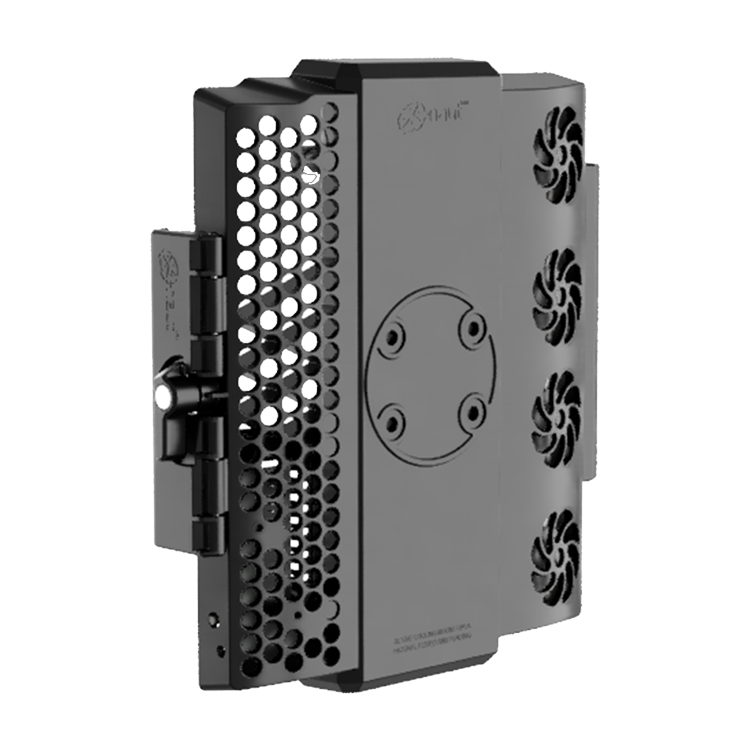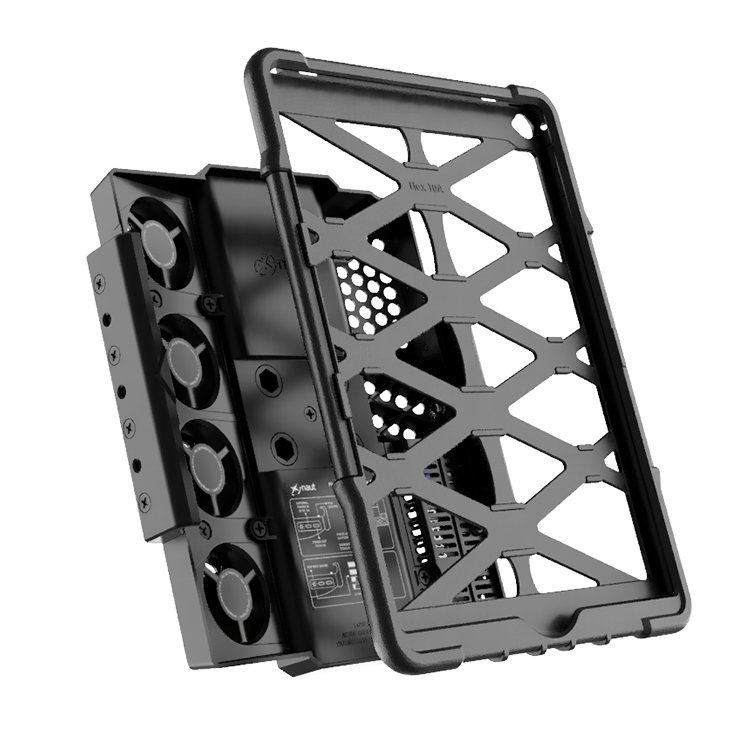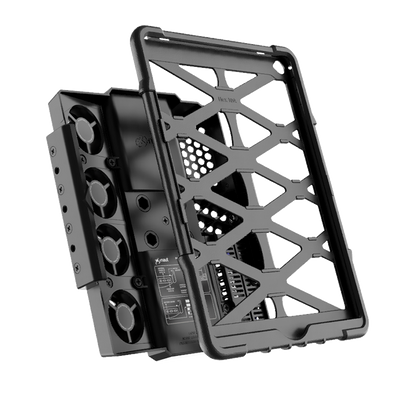 FLEXGRIP SKIN
FlexGrip Skin is designed to safeguard your iPad against shocks and drops when you're on the move during your workday. At the same time, these covers won't keep your iPad from getting the airflow it needs from our X-naut Cooling Case. Our cases are also made from Elastomer, which is resistant to chemical and UV degradation. This makes our cases durable enough to withstand regular use.
MAGPOWER RECIEVER
The powerhouse behind the MagPower products, our MagPower Receiver is the docking base that allows for instantaneous magnetic charging for your iPad and its Cooling Case. Featuring an industry-standard 30mm x 38mm AMPS hole pattern, virtually any mount on the market can start providing MagPower. To provide the wireless power, the MagPower Receiver takes in power from a USB-C port on the bottom from a 3-amp dashboard charger or wall charger.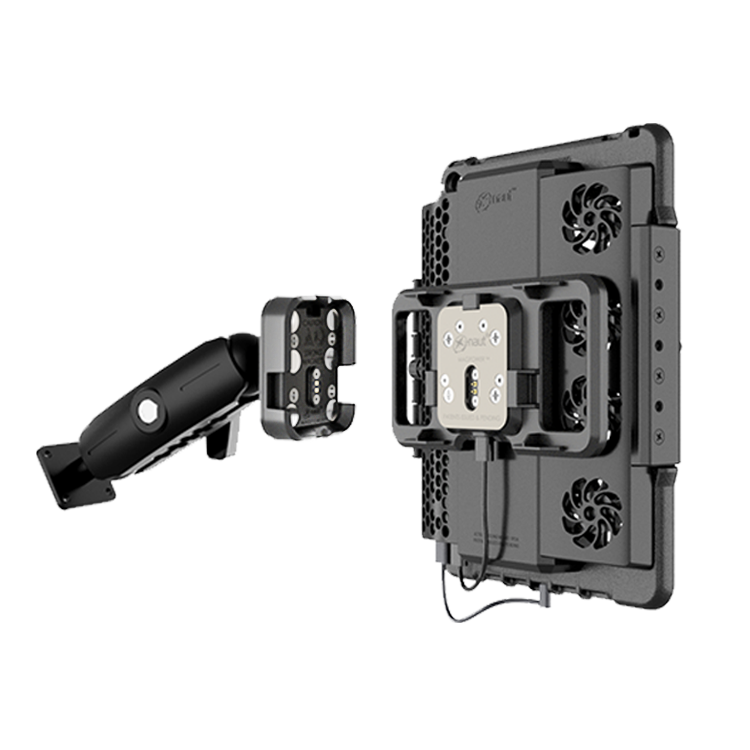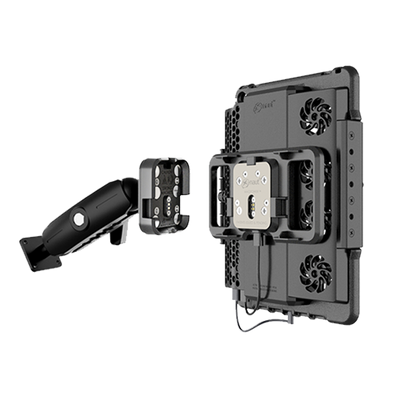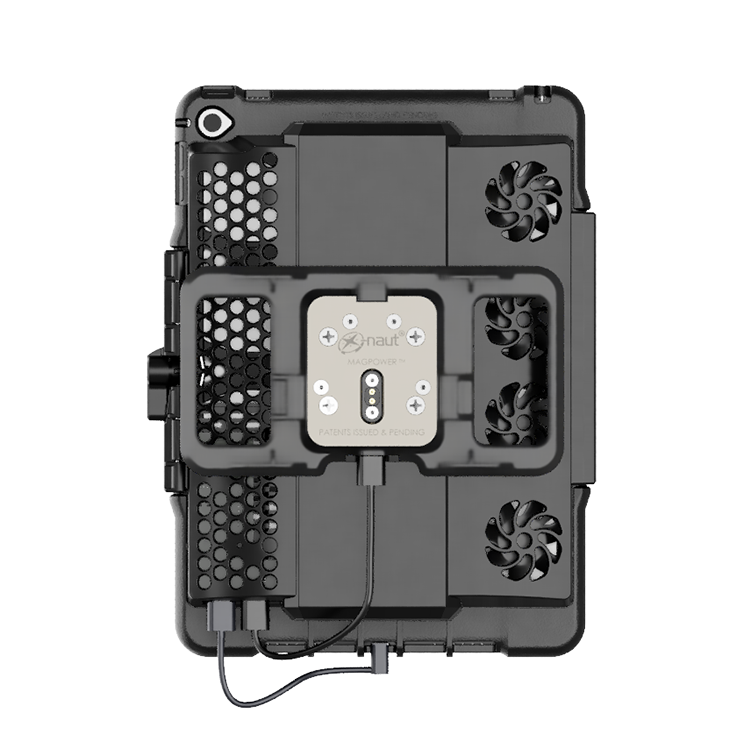 MAGPOWER AMPS
AMP stands for Acessory Mounting Plate. Our MagPower AMPs allows for instantaneous magnetic charging for your iPad and its Cooling Case on a sturdy magnetic iPad mount, allowing you to grab and go, ensuring your tools are always ready for you. When connected to the MagPower Receiver, the MagPower AMP enables you to charge your heavy-duty FlexSeries iPad Case and your iPad wirelessly.

Note that you do have the option of using a USB-C to USB-C 120MM cable or a 90-degree
MAGPOWER GRIP
For the days when overheating iPads aren't a risk, you can travel lighter with the MagPower Grip. When you don't need the automatic cooling features and extended battery life that the FlexGrip Command Center provides, the MagPower grip is here to bring magnetic, wireless power directly to your iPad.
Similar to the FlexGrip Command Center, the MagPower Grip attaches to the FlexGrip Skin with a clamping mechanism. This enables a one-size-fits-all approach so that the MagPower Grip can be used with any iPad generation and size.